You may have noticed we've been talking a lot lately about how to Kill Your File Shares. Why? Most corporate file shares are filled with redundant, obsolete and trivial data that not only slows your processes to a crawl, it can pose a serious risk to your business.
Many of our customers want to kill their file shares, they just don't know where to start. So we made this video to provide a little extra motivation:
Still not convinced? Join us at the upcoming ARMA Live conference and we'll show you exactly how we can help you get started.
Stop by our booth, get a free Kill Your File Shares t-shirt, and enter to win a new iPhone 8: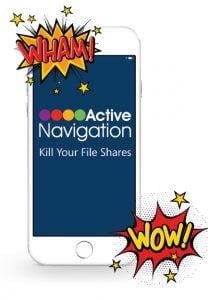 Event Details:
ARMA 2017
October 15-18
Orlando, FL
Booth #407
We look forward to seeing you there!