Our First-Ever Tech Unconference
How do you even begin to summarize three days of energized conversations and collaboration during Active Navigation's first-ever Tech Unconference? What is the best way to relay the excitement and optimism felt in the meeting rooms? As I struggled to find answers to these questions, let alone organize them in the form of a blog post, a question that Rich Hale, our CTO, half-jokingly posed at the beginning of the week echoed in my head… "Can you tell I'm passionate about our values?" And with those words in mind, I decided to work through the week value by value. But first, allow me to offer a bit of context…
Active Navigation's software development team is based in our UK headquarters, while our support and services teams are based in our US headquarters. In addition, we have sales representatives and engineers located around the world. Last month, all the teams came together "unconference" style to talk everything operational excellence. (For further context, an unconference is essentially a meeting with no set agenda. Rather, the day's occurrences are driven by what the attendees wish to talk about at that moment.)
How can we better serve our customers? How can we improve our product and processes to deliver greater value to our clients? How can we work as a team to meet each other's needs more effectively in pursuit of operational excellence? It was these types of questions we set out to discuss over the course of three days in the straight-from-a-storybook town of Winchester, England (where our UK office is located).
As the event coordinator, I was in attendance to make sure my coworkers had everything they needed to focus on the content of the meetings, rather than the logistics. This presented me with a unique fly-on-the-wall opportunity. Here's what I observed, value by value…
Value Loyalty
Rich kicked off the unconference with a keynote titled "Handing Over the Baby". After walking through the history of his involvement in the company and the evolution of our software, Rich expressed how it was time to fully hand over his hard work (the baby) to his teams. Rich has witnessed, perhaps more than anyone, the loyalty his team members possess for the company. His gesture in "handing over the baby" shows how much he values that loyalty and exhibited the trust he places in his teams. Furthermore, it provided an empowering way to begin the unconference.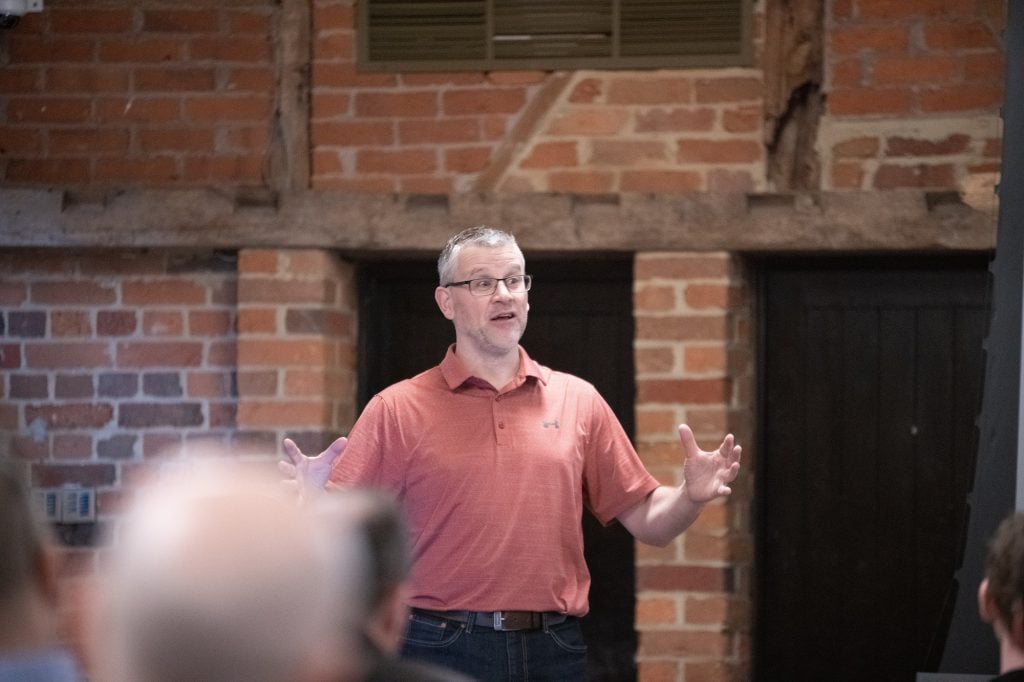 Rich Hale, CTO, handing over his baby.
Be Accountable
After our CTO had metaphorically handed over his baby, we removed the artwork from the meeting room walls to create a blank canvas for our own works of art. On this canvas, we began to build out a customer's journey, from their initial realization of the need to when these needs are met. As we worked through this exercise, adding sticky notes until the walls were bursting with the colors of the Post-it Notes Rio de Janeiro Collection, every single person in the room spoke about their roles and contributions to the customer's journey. What showed true accountability, however, was not when people explained where they fit into the journey, but when they openly volunteered areas where they could improve in order to deliver greater value to our customers. If volunteering to share your vulnerabilities doesn't embody accountability, I'm not sure what does…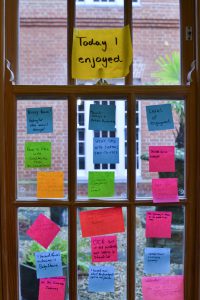 We used all the sticky notes we could get our hands on!
Act Hungry & Get Spiky
With the walls bursting with sticky notes it was time for breakout sessions. Based on the pain points uncovered during the customer journey exercise, anyone was given the opportunity to lead a breakout session. The breakouts were intended to help everyone better understand how we operate and allow space and time to discuss how we can improve. As an observer, I was truly inspired by the passion conveyed by the many individuals who led a breakout session over the course of the unconference.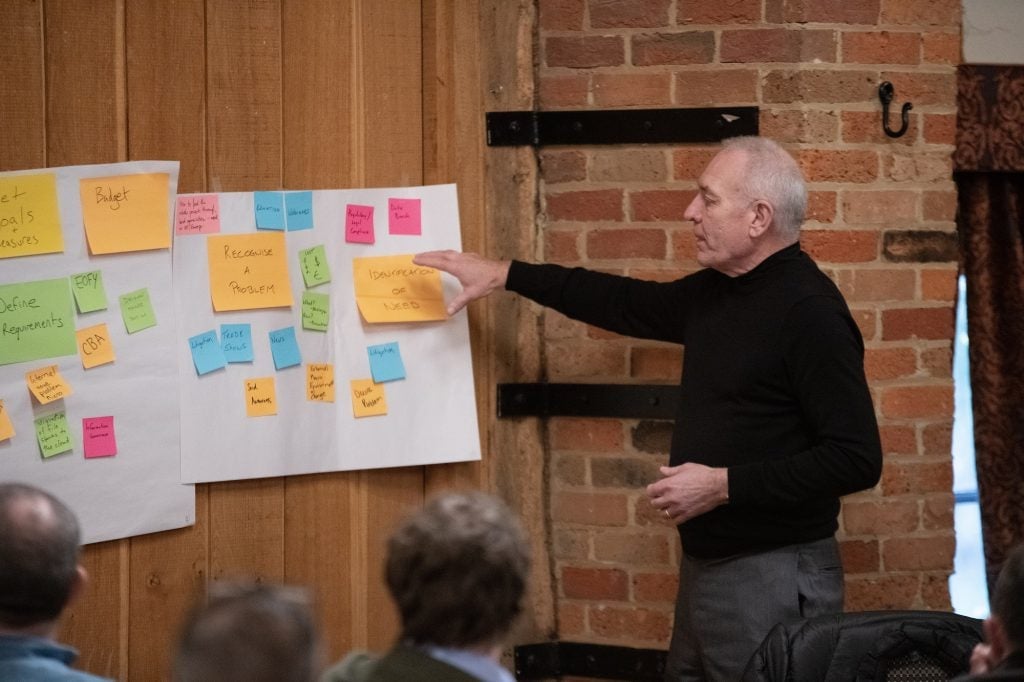 Gregg Wright, Sr. Services Consultant leading a breakout session.
At one point, Mark Evans, Senior Enterprise Sales Engineer, couldn't give up the podium even if he wanted to. His audience was so captivated by his knowledge and the content of his session that they kept voting for him to spend more time talking about "tales from the frontlines". After a breakout session about data visualization led by Paul McNeil, Senior Developer, multiple people shared how much they learned from and enjoyed his presentation.
The hunger to share knowledge, learn from each other and be better as a company, not for ourselves, but for our customers, was impossible to miss.
Embrace Diversity & Show Courage
The word "groupthink" did not exist in Active Navigation's collective vocabulary during the unconference. Diverse ideas and perspectives were shared throughout the week, and no one kept them in. Better yet, no one shut them down. If you think about it, that statement is incredibly telling. It can be difficult to share different or unpopular opinions in a room full of people you work with almost every day. The fact that sharing a different opinion was not only welcomed but encouraged, is a testament to how willing we are to embrace diverse ideas and perspectives.
Communicate Clearly
Slack, Zoom, Outlook, Trello, etc. – thrown out the window during the unconference. Why? We simply didn't need them! For three full days, more than half of the company was under one roof (and in one time zone!) We didn't need electronic forms of communication because we could speak face-to-face, offering the opportunity to learn in-person how each of our colleagues best communicates. Even something as simple as the chance to observe your colleague's inflexion and tone of voice in-person offers the opportunity for more effective communication when we all return to our regular time zones and again rely on Slack, Zoom, Outlook and Trello.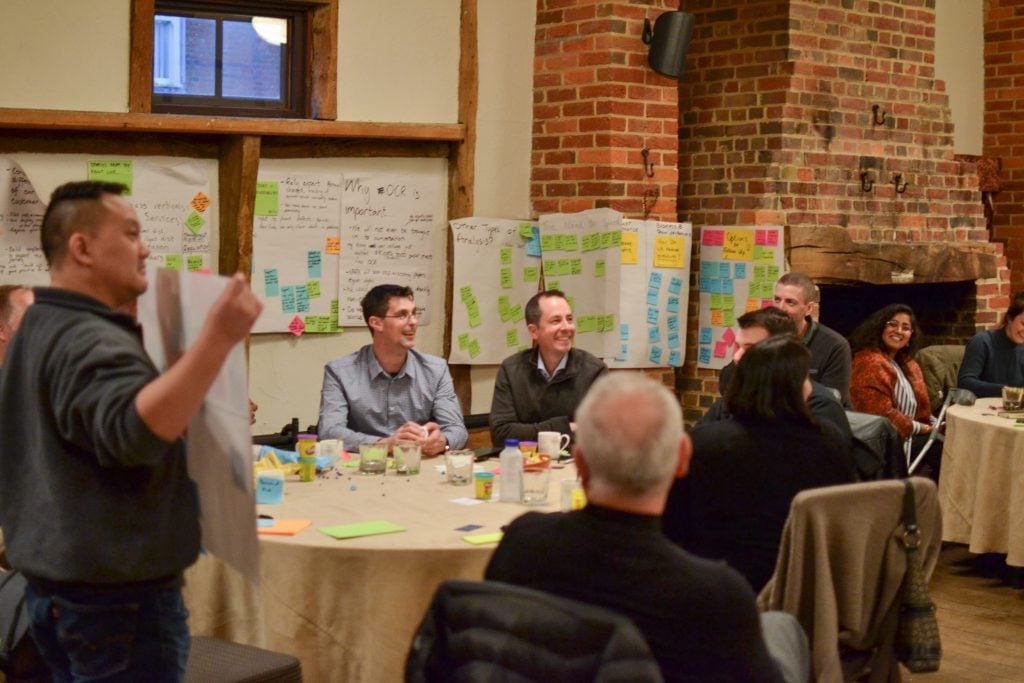 The team happily exchanging ideas.
Beyond the meetings, the opportunity to simply hang out with my colleagues while trying Winchester's "best" fish and chips and bonding over jet lag and the hotel's disappointing pillows made for an unforgettable week. After witnessing my coworkers deep in thought and focused on bettering the company at one moment, then laughing and sharing stories over dinner the next, I returned to the States inspired by the intelligence and drive of my peers and ready to tackle the remainder of the year with the ultimate goal of operational excellence in mind.
Oh, and Rich – I can tell you are passionate about our values, and the enthusiasm is contagious.
Active Navigation is hiring! If our values resonate with you, "get spiky" and join the team. Click here to view our open positions. We look forward to meeting you!