We've been a little quiet on this release as the team has beavered away working on the latest iteration of Discovery Center. What's kept us so busy? Interestingly enough, not the changes the Discovery Center – which will only receive some minor updates. Instead we've been carefully re-working the incredibly popular Classification Designer application to become our new Discovery Center Workbench: offering the same powerful classification design capabilities, the Workbench will provide an overhaul in usability and set a platform for planned future features for rule exploration and design. Importantly, this is certainly not just a 'jam tomorrow' story. Instead we will be driving everyone towards the new Workbench because, quite simply, its much easier to use and makes classification design, creation and maintenance a far faster, more robust and more productive process. The main changes are:
Discovery Center Workbench lets users fully explore every facet of their content rather than just being restricted to themes and folders. Using our new facet chooser users select the facets pertinent to the rules being worked on and can then freely explore search results, drill down values and unclassified files to quickly refine rule performance in a way that was impossible before.
We have provided massively improved query builder support, providing shortcuts and helpful tools for creating rules to achieve exactly the result you want. Using these tools users will be able to quickly turn facet values into working rules for upload and deployment to Discovery Center.
Our new validation feature evaluates entire classification structures and checks that they're good to go, highlighting warnings and errors and allowing the user to quickly pin down and resolve any issues BEFORE deployment. Using this feature our team has already been able to locate problems in long established rulesets that had gone unnoticed until now.
Finally, we've overhauled keyboard shortcuts to enable power users to get to a new level of productivity, rapidly flashing out new structures for review or instantly turning analysis results into working classifications.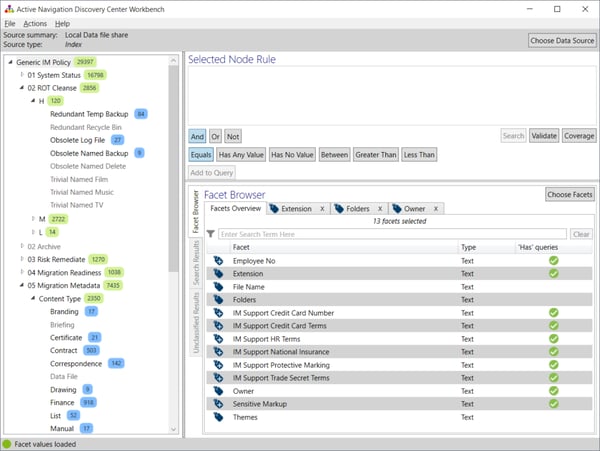 Whilst we're most excited about Workbench and all it can do, I also need to mention some nice changes to Discovery Center that our established user base will appreciate. The first introduces the ability to extract and work with EXIF properties from image files using new extraction rules. The second offers new support for credentials management – including certificate-based credentials – and, importantly, removes the requirement to deploy credentials through indexes. Instead, credentials will now be applied through the Network Map for more consistent administration.
Release 4.3.8 will be available to our customers and partners for download from support.activenavigation.com from 1st of September. Its a recommended upgrade for all but is especially valuable for anyone involved in the design, creation and maintenance of classification rules. As usual, upgrade will be a simple process and Despite all of these changes, your existing rules will remain compatible with the new Workbench. Do note however that Workbench will only work with Discovery Center Release 4.3.8 builds – anyone on earlier releases will need to stay with Classification Designer.